Whilst Koh Adang has nothing to do with Alex Garland's famous novel-turned-film, it sure feels like it when you get here. Adang is totally unspoiled and untouched by mass tourism. Facilities are scarce, so very few people venture here, making it feel secluded and peaceful.
Despite the proximity to the crowds on Lipe, Adang remains a quiet slice of paradise, which is what makes it so ideal. We love to head to Koh Lipe for the beach parties, crowds, and good restaurants, then hop over to Adang to get away from it all!
Where is Koh Adang?
Adang is part of the Tarutao Park in southwest Thailand close to the Malaysian border. Within this national park, there are two groups of islands: Tarutao and Adang-Rawi. The Adang-Rawi group consists of Koh Lipe, Koh Adang, Ko Rawi, Koh Butang and Koh Lek.
How to get to Koh Adang from Koh Lipe?
You can only reach Koh Adang by tail boat from Koh Lipe. Simply head to one of the main beaches on Koh Lipe and ask one of the tail boat owners there to take you. When we visited, we paid 100 baht ($3) per person each way and the journey took around 5-10 minutes.
For the return, there are always a few tail boats hanging around by the Ranger Station on Koh Adang waiting to take people back to Koh Lipe. However, you should check this before leaving Koh Lipe as it will depend on how strong the tide is.
STAY IN A BUNGALOW OR TENT
Camp or stay in a bungalow for LOW prices!
Bungalows have proper beds and ocean views
Tents can be pitched almost directly on the beach
Right by the island's only restaurant
We strongly advise booking your bungalow online on the National Park's website as they get snapped up quite quickly. You can also book things on the day you arrive, but run the risk of there being no bungalows available for you. For camping, however, you can only book when you get there, not online beforehand.
Things to do in Koh Adang
Adventure travellers will be in paradise here. Most of the island's interior is dense jungle and largely inaccessible. There are only ever a handful of people at any one time on Koh Adang, so you truly feel like you have the entire island all to yourself.
Beaches on Koh Adang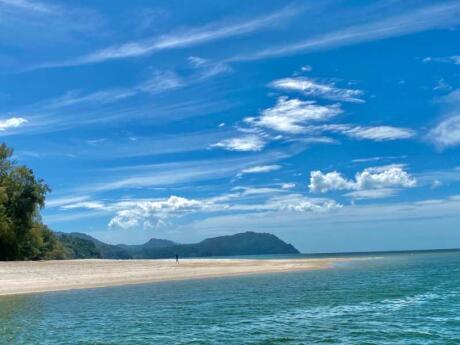 There are many beautiful and deserted beaches on Koh Adang. The main one is a long sandy beach which starts from the Ranger Station and continues through the camping grounds, past the restaurant and further on where it becomes more and more secluded. To reach the more remote beaches around Koh Adang, like the Black Sand Beach in the north, you would need to charter a tail boat to take you. But make sure you agree on a pickup time to bring you back as well.
Hiking to Koh Adang's viewpoint
The highest point on Koh Adang is 2,264 feet (690m), which includes 3 viewpoints. The final one has the best views. The path is not paved but not too difficult to find. We advise asking for information and maps at the Ranger Station before setting off. The entire journey took us around 45 minutes each way. You can also hike to several waterfalls like the Pirate's Waterfall. Don't forget to bring your sunblock cream, bug spray, and plenty of drinking water with you.
Diving in Koh Adang
After getting our PADI scuba diving certification in Koh Tao, we were ready to take it further in other locations in Thailand. Koh Adang is perfect because there are several diving spots around the north and west side of the island. All the diving schools are in Koh Lipe, which will know the best diving spots to visit depending on the latest weather information.